2022
Activities

Mimart on festivals:
MAY - Festival of living statuas, Banja Koviljaca, SRB
JUNE - Festival of contemporary woman, Tuzla, BIH
JULY - LilaLo fire festival, Loznica, SRB
AUGUST - Nisvil theater, Nis: "Svetkovina igre" i "Vatralj"
WMO Pantomime Festival, Vrnjacka Banja, SRB
SEPTEMBER - Trema fest Ruma, SRB, performance art festival Sarajevo, BIH...
Follow us on fb stranici
Links:
SEECult


Think time

Premiere 02.11.2015, Student Cultural Center, Belgrade

Trans-media performance was aimed at initiating important issues in society regarding the contemporary young artists, developing critical thinking and impetus to innovative multimedia contents. Aim was to increase the visibility of young talents and their team work gathering about this project, because independent artist today independent creative work in isolation and due to financial difficulties cannot realize their ideas. Together we explored the possibilities of sound, images, colors, shapes, movements and thoughts through timeless syncretic performance. The gathering, do-education and encouragementof each other are needs of young artists for the collective research.

Project was realized on International music festival BUNT 3.0 2015 and on manifestation of contemporary arts April Meetings 2016 in Student Cultural Center. Project is supported by Ministry of Culture and information Belgrade.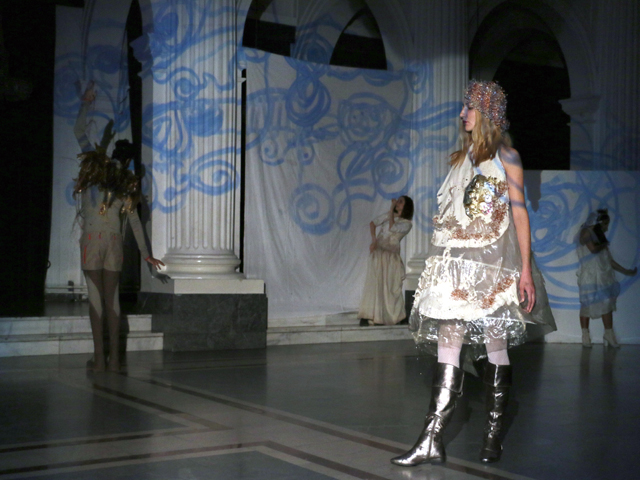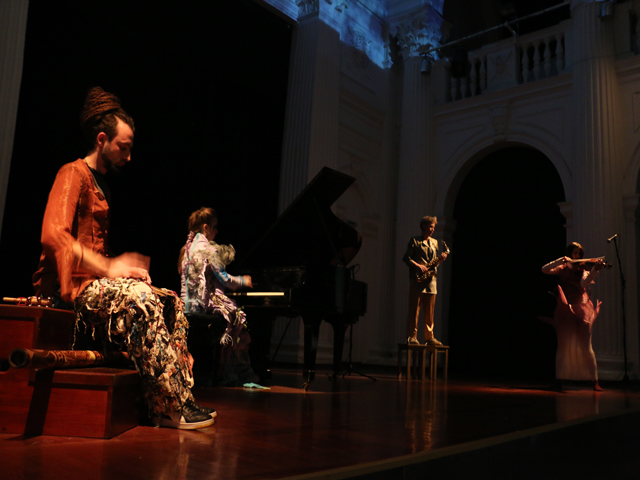 Photo: Lidija Antonović
Author of concept and light design: Lidija Antonović
Musicians: violin Ljubica Damčević,piano Katarina Ranković, saksophone Teodora Sarić and perkusions and didgeridoo Predrag Radovančević
Performers: Anja Nikolić, Nikola Vranić, Katarina Orlandić and Galina Ralić
Costumes: Lara Popović
Video art: Kristina Drašković Bočkov and Lidija Antonović
Artistic interventions live and editing: Kristina Drašković Bočkov
Poetry by Nina Petrov
Advisor on project: Nela Antonović, artistic director of Theater Mimart